Gloria Estefan Joins The Ellen K Morning Show At 8:05 AM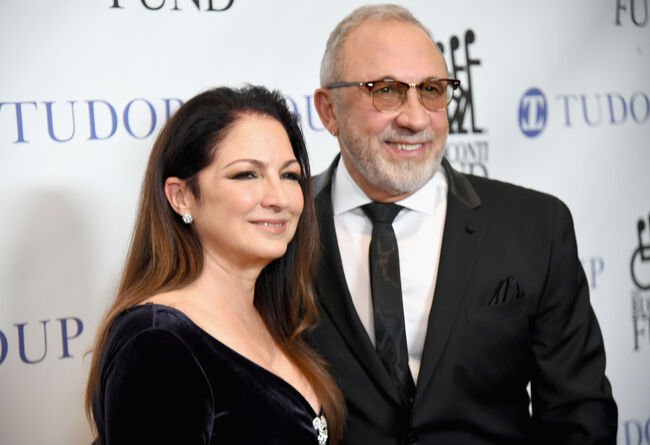 Gloria and Emilio Estefan are sharing their inspiring story about heart, heritage, and two people who believed in their talent—and each other—to become an international sensation: Gloria and Emilio Estefan in their hit broadway musical, ON YOUR FEET!
The New York Times says, "The very air in the room seems to vibrate in this undeniably crowd-pleasing musical!"
The musical follows Gloria's life story starting as a little girl in Cuba. Growing up, her dad had Multiple Sclerosis and her grandma was her biggest supporter, who always encouraged her to follow her dreams. Gloria & Emilio were told "NO" a lot by record executives and industry professionals but that never stopped them. They still persevered and let the people decide for themselves. On Your Feet! is an inspiring show and a great reminder of fulfilling any type of dream, any possibility, any re-inspiration that you may need.
Ellen K is giving away a pair of tickets to see On Your Feet! this morning, don't forget to tune in for your chance to win!
Purchase tickets to see On Your Feet! at the Hollywood Pantages Theatre now through July 29th HERE.
mysticmichaelaWhat does a strong relationship look like in aura color? ❤️ Gloria and Emilio Estefan are a true depiction of a couple knowing they are stronger together rather than apart. ✨ Emilio has a green and purple aura, and it's balanced - logic and emotions are equally regarded by him in all areas of life. His aura shows systematic intelligence - both musically as seen in the complex arrangements he composes and artistically in the ability to put his finger on the pulse of a collective consciousness and speak to it. The combination of green and purple shows that he is a visionary and has been able to translate that in various genres other than the music industry - he's a natural producer, as he can filter information and only let in what serves his higher purpose and vision of creation. His balanced energy also shows how protective yet emotional he is. He doesn't shy away from the feelings that come with life... in fact he embraces them and is influenced by them. Emilio stands strong and has major commitment to his causes and his family. Gloria is a purple/indigo combination and feeling that commitment from him is everything to her. The indigo is her pure emotional connection to loved ones and fans... and we FEEL that. It's no wonder she's loved by many, because empaths can feel her energetic communication of gratitude, joy and love with everyone. Her purple is the artist, she needs that outlet and she has a strong voice, an "it factor" a presence. With the support of Emilio, Gloria has felt safe to express this energy and he in turn has felt her nurturing compassion. Greens need to work! To be challenged and to constantly do better. Gloria gets that with him, just as he gets that she needs him to create spaces for her to be the artist she can and always will be. Managing their own destiny in this industry is a no brainer for this aura combination - they can't deal with any sort of micromanagement that feels corporate, disingenuous or controlling. Gloria and Emilio have inspired us in many ways, and being a true power couple that has unconditional love for one another is another beautiful inspiration for us all. 🎶

#mysticmichaela @kost1035fm

Ellen K
Listen to the Ellen K Morning Show on KOST 103.5 FM weekdays from 5am-10am and Saturdays from 6am-10am!
Read more