How To Have The Perfect Proposal (READ)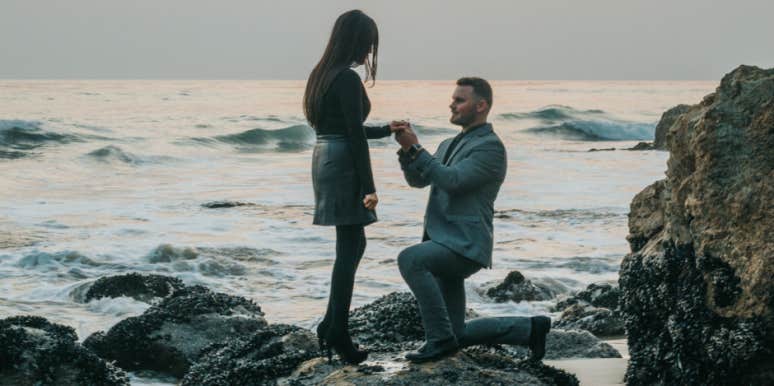 Your Tango
READ: It's one of the biggest moments in a couple's life. And with all of the things being posted on the internet, it seems very hard now-a-days to come up with the perfect proposal. So Your Tango editor Micki Spollen decided to help out by putting together a guide to the perfect proposal.
And of course he didn't do this by himself, he used a survey done by ZOLA, a wedding planning and registry website, that asked recently engaged couples about their engagements. And it helped him put together a list of the perfect way to propose from start to finish :
SOURCE: YOUR TANGO http://bit.ly/2tGlWbK
MICKI SPOLLEN'S LIST (on the website above in the source) will be used below with my opinions about each step:


Before you propose
Pick out the engagement ring together. According to the survey in the blog, 1 of 4 couples would prefer to pick out the ring together. Which makes sense, since they will be wearing for the rest of their lives. It might tip the proposal, but it might also make her happy that you are planning to be with her forever.
Take her somewhere special. Unless she says she wants it at home, you might want to take her somewhere special that means something to you both, like your favorite place together. Or maybe your first date, or on vacation.
Skip the fresh manicure. This I do not agree with, and neither did 40 percent of the survey, who said they would want a fresh manicure. Although it isn't essential all the time, the article said it might tip that you are going to propose. So I say, you should probably treat your lady regularly to a fresh manicure so you won't give it away haha. That's just my opinion.
How to propose
Make it a surprise. I think this one is pretty obvious. Unless you have a partner who hates surprises, most people don't want to see it coming. And the survey showed 89 percent of people said they wanted it to be a surprise.
Make it private. I know you always see these huge proposals on Youtube and social media, but the ZOLA survey showed 73 percent of people wanted it to be private. You may want to set up video, but you should enjoy this moment together, not with the masses.
Skip the photographer. Here is another thing that social media wants you to do. But it could also give away your big moment.
After the proposal
Tell mom first. Here is something that people always used to do, but now your first impulse might be to put up the photos on social media. But if your parents aren't there, you might want to give them a call before you go on social media with your huge news.
Then share on social media. Well duh! Who wouldn't put it up on social media! haha
Don't be ashamed of that ring selfie. Ring selfies get a lot of hate, but mostly from salty people on social media! You got engaged! Who cares, share that ring baby!
Have a social wedding. Here is your chance for your friends to share on your big day. You will have a photographer at your wedding, but your social media also provides ways to make your wedding easy to share on social media, and to share with you. You can do things like create a hashtag, or even on Snapchat, you can create a filter for a small fee for your wedding!
SOURCE: YOUR TANGO

Karen Sharp
Listen to Karen Sharp on KOST 103.5 FM weekdays from 7pm-12am!
Read more