Olive Garden's Annual Unlimited Pasta Pass Is Coming Back This Week!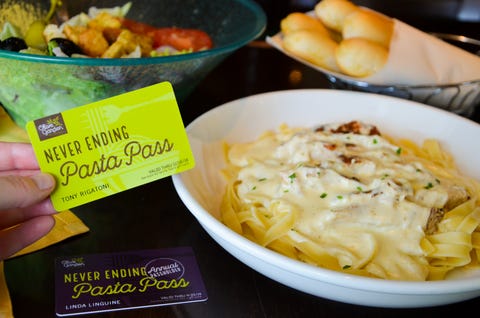 Delish
READ: This pass made such huge news the last time that it came out. And people wanted it so badly, that Olive Garden is bringing it back! And you will need to act quick if you want to get your hands on one of these, because there is a very limited amount of them! How limited, well there is the 23,000 available passes for the 8-week never ending pasta passes, which will cost $100. And this pass will be available to use from September 24th through November 18th.
But who wants the 8 week pass when you can get the annual pass! 1,000 lucky people will be able to purchase the most wanted year pass for $300, which will give you unlimited pasta, breadsticks, salad and soup for a whole year, lasting from September 24th 2018 through September 22nd 2019. There are only 2 days that the pass isn't available to use, on Christmas Day and Thanksgiving Day.
So how do you get your hands on one of these passes? You can go to https://www.pastapass.com/ starting on Thursday, August 23rd at 2pm EST (11pm PST). It will be on sale for only 30 minutes, if it lasts that long. According to Delish, the cards sold out instantly last year, so you better be ready to buy right away! Good Luck getting yours!

Karen Sharp
Listen to Karen Sharp on KOST 103.5 FM weekdays from 7pm-12am!
Read more