Teachers Reveal How Much They Spend On Back To School Supplies!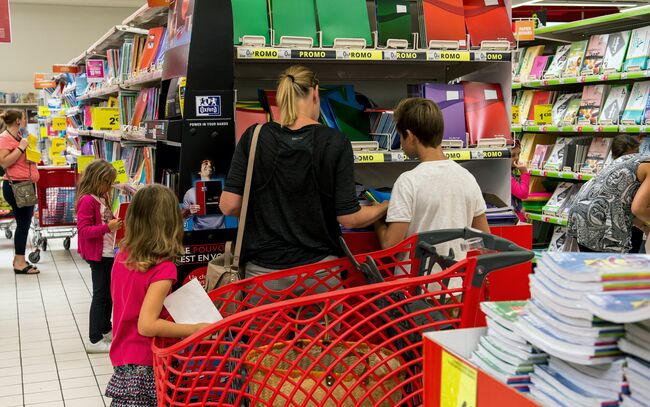 When it comes to back-to-school, our children are at school more than they are at home!
This is why their teachers are real life superheroes!
Educators are often under-appreciated and when teachers were asked how much they spend on back to school supplies each year the results are honestly mind blowing!
Romper spoke with a number of teachers across the country to find out how much their districts gave them for school supply purchases and how much they spend out of pocket in order to properly care and educate their students!
You will also find it shocking that some schools sometimes give their teachers absolutely NOTHING!
Check out some of the teacher responses below:
Katie, 36
"When I taught in New York City public schools, you got $200 [to spend on supplies... or maybe it was $250. At the end of the year you had to turn in receipts.
I usually spent over $1,000. Teachers didn't have access to a copier. You had to ask the office staff. It took days or more to get your copies back, and they were usually on legal size paper, which was a pain for the kids to take home so I did my own at Staples."
Katelyn, 25
"When I worked in Oklahoma I received $0 for supplies. When we needed class sets of calculators, we had to ask the parents for a $3 donation because we had no funds. When the copy room ran out of paper, I had to supply my own. I spend about $1,000 on supplies to make sure all my students have what they need for my class... plus supplies for activity-based learning."
Arlene, 29
"I've worked in public, charter, and private schools and have never received funds for my classroom. I spent at least $250 on organization, supplies, storage, new books, subscriptions, etc. I spend at least $10 a paycheck, too, because there's always a new book that I want for one of my reluctant readers. I spend at least $500 per year out of pocket."
Jodi, 26
"I work in a public school district in Missouri that services special education students in the entire county by working with the other districts in the county. This district gives us a $100 budget every year before summer. We have to fill out a requisition form and everything must come from our warehouse catalog. I spend several hundred dollars on my classroom every year."
Jenifer, 58
"My district gives us $200 a year. I spend around $400 or more per year. Since there are so many limits on what we can use the money they give us for, there is a lot to fill in on our own."
Shereen, 39
"I, at a minimum, spend $1,000 on supplies for my class per year."
Alejandra, 33
"I spend about $500 a year. Public schools in Miami... most received was $250. Currently we can only purchase through a site called 'Class Wallet.' No choices except what is there and I believe it's down to $200."
Rebecca, 40
"This is my 19th year. Sometimes we get money and sometimes we don't. On the years we do, it comes in our paycheck sometime around October and we have to submit receipts for it by March or write a check to reimburse the district. The amount also varies. One year it was $57. Last year it was a little less than $200. I don't know what the amount is this year, but I've already spent hundreds more than whatever it is. Probably $800 - $1,000."
Zoe, 27
"I normally spend $800-$1,000 for physical or curricular supplies. This is mostly because I have had six different courses in three years that I needed to buy curricular materials for, and because I have multiple classrooms to stock and decorate with things like maps."
How crazy is this?

Kari Steele
Listen to Kari Steele on KOST 1035. FM from 10am-3pm!
Read more