Jonas Brothers Say 'Chasing Happiness' Documentary is Hard to Watch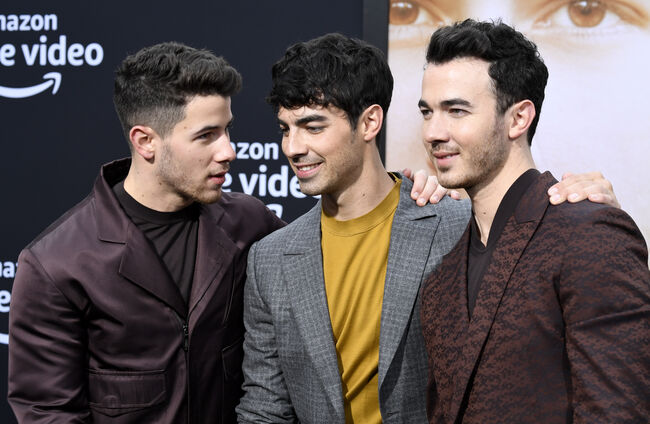 After some time away, the Jonas Brothers are back together and one of their stops - The Ellen K Morning Show. The band, which was formed in 2005, are coming off of a 6-year hiatus with a world tour and Amazon Original documentary to kick things off. Only thing is, life is a bit different now, considering the pop rock brothers each have their own families. This also happens to be a little fact that Joe seemingly forgot to tell his parents.
"I was doing so much fact checking and checking in with Sophie's family to make sure they're queued up knowing that the legal bit was taken care of in Vegas, that I kind of forgot to tell my parents." Joe and Sophia Turner (Game of Thrones) surprised everyone when they showed up on a celebrity friends Instagram exchanging vows in Las Vegas. The two have been vocal about their plans to wed in France this Summer, so the whole ordeal was a shocker.
"But I smoothed it over and it took some nurturing and careful conversations, but luckily they're cool and we feel so lucky to have the best parents," Joe relayed.
Being on the road, although familiar, holds more emotional weight today. Kevin admits that he's going to have a tough time adjusting to not seeing his children everyday. "As much as we've been gone - it's hard, it's something to get used to like miss my children as much as I do."
The band initially put up around 50 tour dates, but an overwhelming response of fans rushing to purchase tickets quickly increased that tour list. "When you can look a calendar and say `wow, I'm actually busy everyday until December 22nd' that's pretty wild," Nick stated.
In the trailer for the upcoming documentary, the brothers admit that the breakup was extremely tough for them, but they now understand why they had to do it.
"I think our journey led us in different directions, but it took time to figure out who we were as people again and to go through that process, but I think we started celebrating our individuality more," Kevin candidly told Ellen.
"Especially this time around when the conversation started up again about maybe doing this. It took a long time for us to get to that point and we ended up filming a documentary about it. It's been wonderful to have that journey taped so we can actually watch it back as well and continue to learn from it. That whole process of doing this again has been so rewarding."
When asked how their spouses are handling the rebirth of tour dates and fame, the group thanked their wives.
"Luckily we have three very supportive dedicated partners who are thrilled that everything is going so well...If they were frustrated about it, maybe those dates wouldn't be happening," said Nick.
Kevin added that a little romance every here and there is an absolute must. "We definitely have to prioritize date nights."
However, date night isn't their only form of happiness. Nick opened up about what joy inherently meant to him and stated that sometimes all it takes is just having another person there for you.
"I think it's different for everybody. What we realized is that if you can get through life with a few key relationships knowing that you've got shoulders to cry on, people to laugh with and people to rely on in tough times then you're in good shape."
Even the simple things can provide that happiness within. "it could also just be an In N Out burger...just a double double," Joe adds.
The brothers insisted that more tour dates would be added to the already stacked list, so fans keep an eye out for that treat!
Until then, viewers can experience a rollercoaster of arguments, drinking games, emotional battles and a lot more on the new documentary, 'Chasing Happiness,' out now.
"There's moments that are hard for us to watch, but we're so grateful that we went through it," closed Kevin.
"We have conversations that brothers can only really have to each other. I think that that growth was important. We never were able to have these conversations in years past, they led us to where we are today, but they needed to happen. The healing needed to happen."
Check out the full interview with Ellen K below!